Find your olive grove or oil mill
Infographic of the area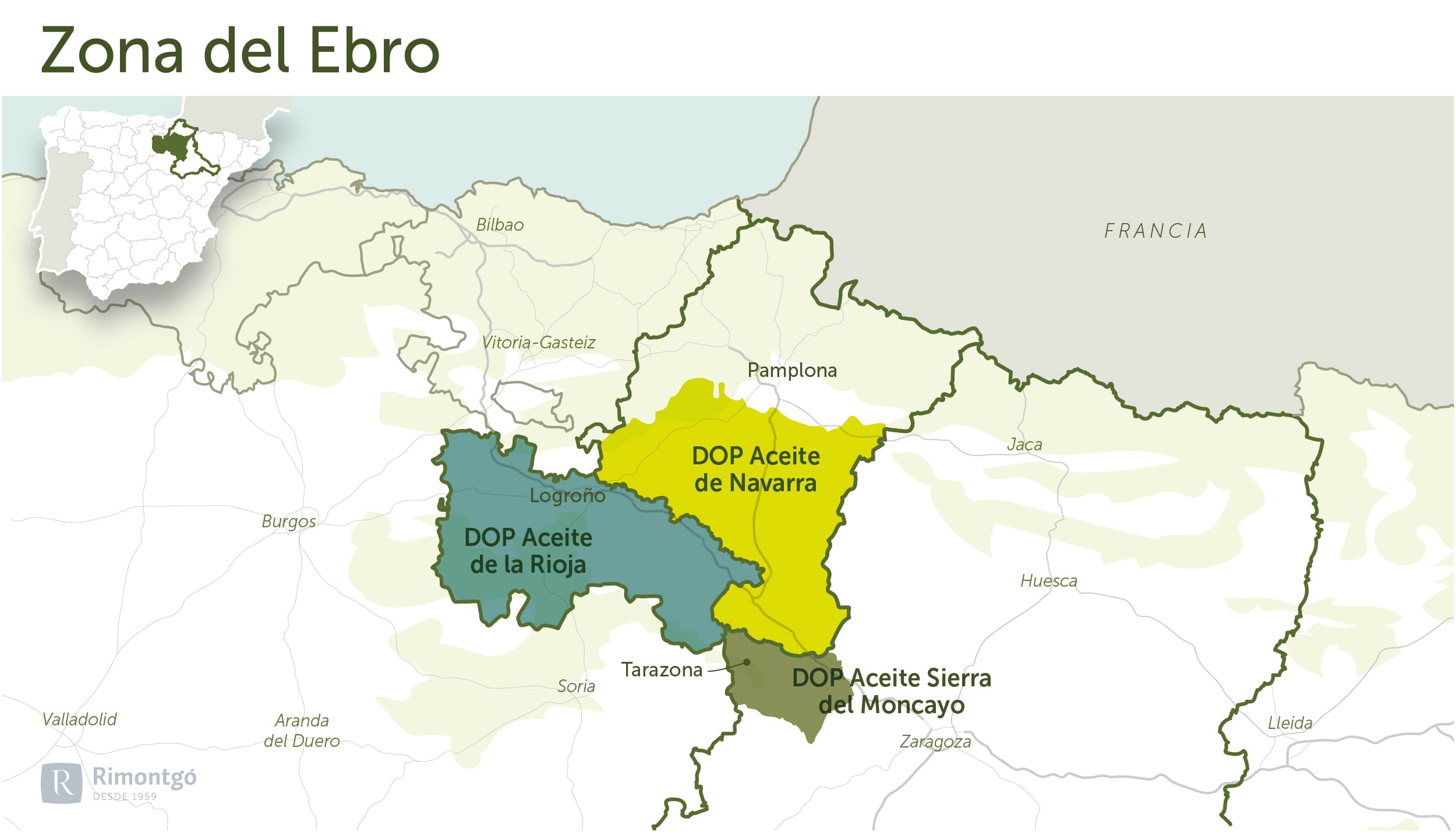 Navarre
In Navarre, the DOP Aceite de Navarra stands out as the only protected designation of origin for olive trees in the area.
DOP ACEITE DE NAVARRA
The DO is made up of 135 municipalities in the south of Navarre in the regions of Southern Navarre: Navarra Media, Ribera Alta-Aragón and Ribera Baja, one municipality in the Pyrenees region, fifteen in the Pamplona basin and forty-eight in Tierra Estella, as well as the territory of Bardenas Reales. The surface area of olive groves in Navarre is 5,200 ha.
Varieties
The oil is made from olives with at least 90% of the Arróniz (autochthonous), Arbequina or Empeltre varieties, although up to 10% of other varieties may be used.
History
From a historical point of view, the olive tree is a Mediterranean crop that has been present in the history and landscape of Navarre for two thousand years. It was first the Phoenicians, the Greeks and the Romans, and later the Arabs, who extended and perfected the techniques of olive cultivation and oil extraction. Archaeology has found evidence of the existence of oil mills or 'trujales' in the Roman villas of Liédena, Cascante, Barillas, Ablitas and 'Las Musas' in Arellano.
Climate and soils
In Navarre, the northern limit of olive-growing is the so-called Mediterranean Navarre, almost entirely integrated in the depression of the River Ebro, with altitudes below 600 m. The climate is characterised by a clear influence of the Mediterranean climate and the soil.
The climate is characterised by a clear Mediterranean influence, with strong thermal contrasts between winter and summer, as well as daily contrasts, being more pronounced in autumn (18º C amplitude), low rainfall (with most of the year in 400 Mm) and high sunshine (2,500 annual hours of clear sunshine) and with an average of more than 120 clear days a year, mainly due to the influence of the prevailing north-westerly wind, known as Cierzo, increasing the cold in winter and the aridity of summer.
The soils, which are moderately deep to deep, are carbonated limestone brown in origin and because the scarcity of rainfall does not favour decalcification.
Olive oil mills
Agrícola La Maja S.L., Hacienda Queiles S.L., La Casa Del Aceite S.L., Nekeas, Olivar La Ribera, S. Coop. Almazara del Ebro, Trujal Artajo S.L., Trujal Mendía, S. Coop.
D.O./Valle (wine regions)