Find your olive grove or oil mill
Map of the Region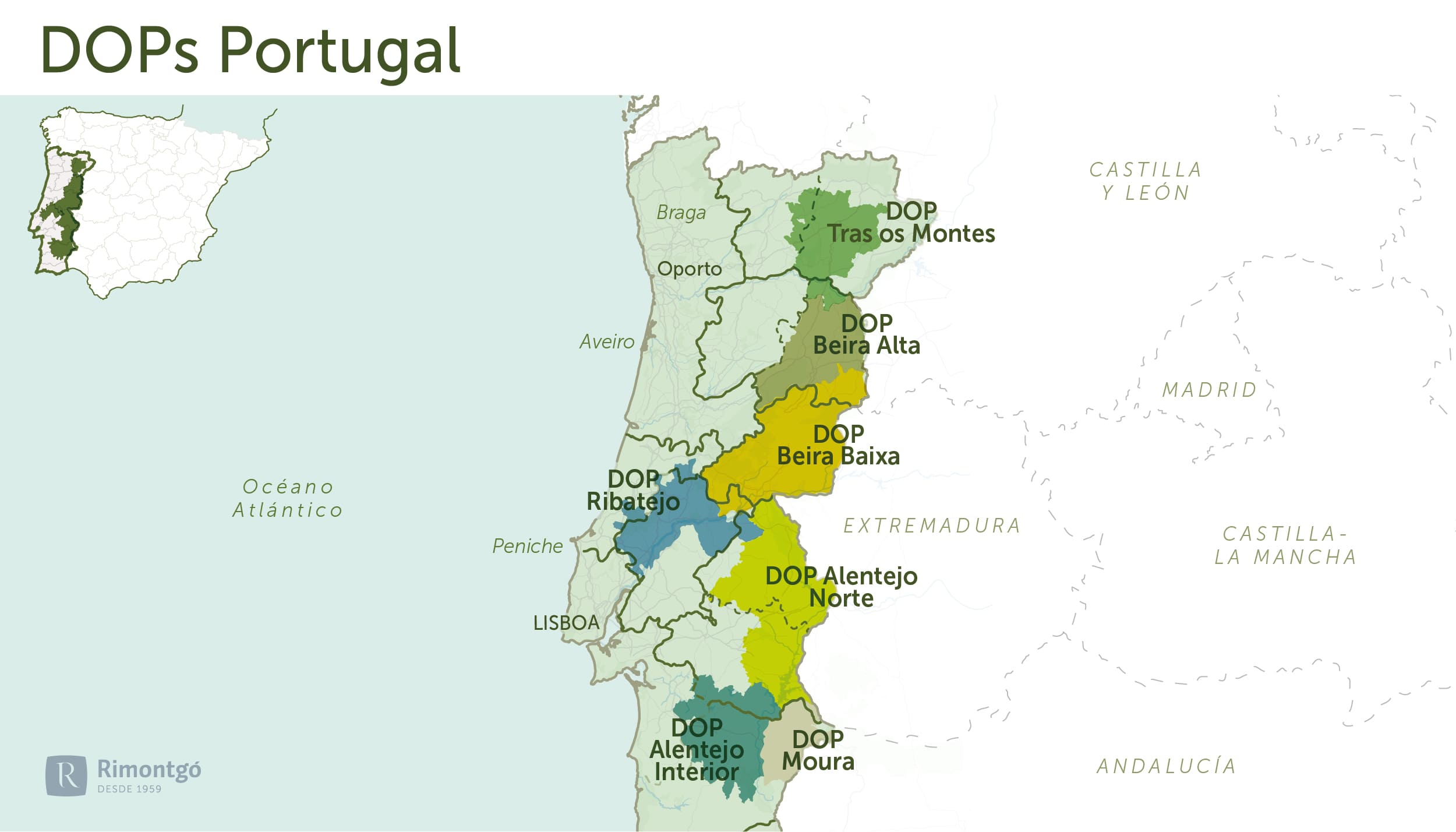 Portugal
The olive tree has existed in Portugal since ancient times, being a millenary culture. The Alentejo is considered the cradle of the Portuguese olive grove and the use of olive oil in food, very common in the Mediterranean basin, is also lost in the mists of time.
Oil passed from the Phoenicians to Athens, from Athens to Rome and from Rome it spread to Western Europe and the Iberian Peninsula. Olive trees found the ideal soil and climate on the Iberian Peninsula. In addition, there is also a long history of the olive tree in the southern Mediterranean area in countries such as Morocco, Turkey and Tunisia. Worldwide, with a production of around 120,000 tonnes, Portugal is still behind Morocco (200,000 tonnes), Turkey (183,000 tonnes) and Tunisia (122,000 tonnes).
Portugal is the seventh largest producer in the world, with more than 495 olive mills and an area of 340,000 hectares of olive trees. It is the fourth largest producer in the European Union (behind Spain 78%, which together with Italy and Greece produces 97% of Europe's total and 75% of world production). Portugal is the fourth largest exporter of olive oil in the world, with Brazil as its main customer.
In Portugal, the largest olive groves are in the Alentejo, which concentrates more than 50% of Portugal's olive groves and more than 70% of olive oil production. In the vast Alentejo plain, the olive tree is a traditional tree, as are the holm oak and cork oak, another icon of Portugal and Alentejo (Portugal is the world's leading producer and exporter of cork).
In addition to the extensive traditional olive groves, new plantations have emerged in search of higher productivity per hectare, such as intensive olive groves (285 to 415 trees per hectare) and super-intensive olive groves (900 to 1200 trees per hectare).
The creation of Azeites DOP dates back to the 1990s in Portugal. There are 7 Protected Olive Oil designations, three are in Alentejo, PDO Moura, PDO Alentejo Norte and PDO Alentejo Interior. Two are in Beiras, PDO Beira Alta and PDO Beira Baixa. The others are PDO Trás-os-Montes and PDO Ribatejo.
The municipality of PDO Moura with 469 producers, 14,701 hectares and 1,754,000 litres produced, in Baixo Alentejo, is the main producer in Portugal, followed by Trás-os-Montes, second in total with 419 producers, 3,586 hectares, 685,000 litres produced.
In Portugal, both production and distribution are concentrated in a few large companies, namely Victor Guedes (Gallo), from Abrantes, Santarém, in Ribatejo, and Oliveira da Serra, from Ferreira do Alentejo, in Alentejo, Sovena (Oeiras) and CAMB (Cooperativa Agrícola de Moura Barrancos), from Moura, Alentejo. The first two control 60-65% of the consumer market in Portugal.
The main varieties used in Portugal are the Galega Vulgar which is the most important variety in Portugal and Crobrançosa which is native to Tras-os-Montes although it is widespread throughout the country. The Carrasquenha variety is mainly grown in the Alentejo area together with the Cordovil de Serpa variety.
By PDO:
Verdeal, Madural, Cobrançosa, Negrinha do Freixo in PDO Trás-os-Montes.
Galega, Cobrançosa, Carrasquenha, Cordovil de Castelo Branco in PDO Beira Interior.
Galega, Cobrançosa in PDO Ribatejo.
Galega, Blanqueta, Cobrançosa, Azeiteira, Carrasquenha, Redondil in PDO Norte Alentejano.
Galega, Cordovil de Serpa, Cobrançosa in PDO Alentejo Interior.
Verdeal Alentejana, Cordovil, Galega in PDO Moura.