Find your olive grove or oil mill
5 Olive groves and oil mills for sale in Castilla-La Mancha / Madrid
Map of the Region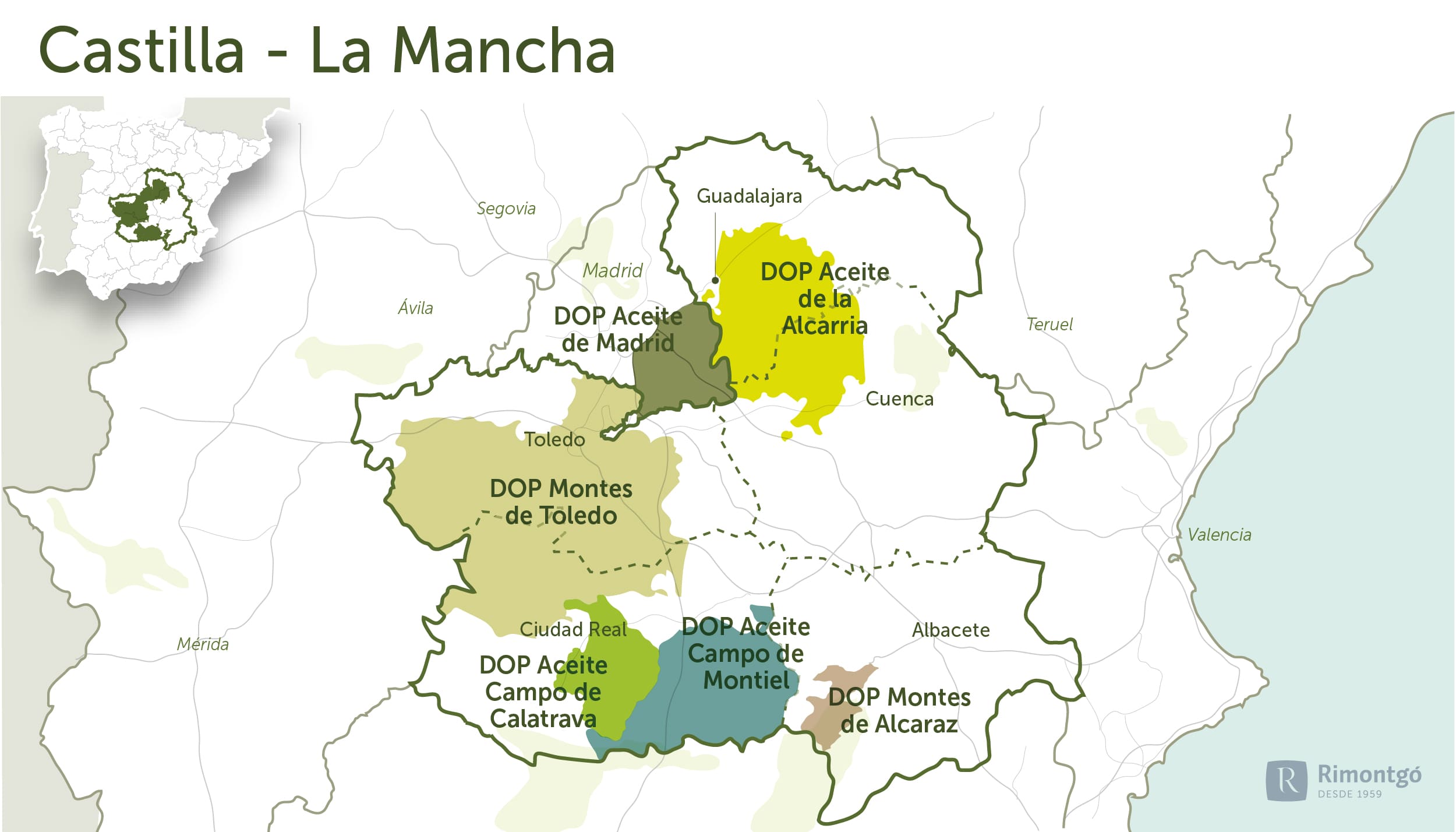 Castilla-La Mancha and Madrid
It represents the 8% of Spain's production with around 100,000 tonnes of olive oil.
Castilla-La Mancha is the second largest producer of Virgin Olive Oil in Spain (7%) and produces 3% of the world's production. This region produces 90,000 tons of virgin olive oil in the region and with 400,000 hectares (14% of the total national olive groves). There are a total of 120 cooperative business olive oil mills with an annual turnover of 167 million €.
DO Montes de Toledo, made only with the native Cornicabra variety. This region is the second largest producer of extra virgin olive oil in Spain, with almost half a thousand hectares and the support of 83,000 olive growers and 255 mills.
In the Community of Madrid, approximately 24,850 hectares of olive groves are cultivated by about 4,500 farmers, making it the most extensive woody crop, ahead of vineyards. These olives are used to produce around 4,000 tonnes of oil.
The four oil designations of origin in the Castilla la Mancha region are DO Aceite Campo de Calatrava, DO Aceite Campo de Montiel, DO Montes de Toledo, DO Aceite de la Alcarria and DO Aceite de Madrid (we include Madrid for these purposes in Castilla la Mancha).
The varieties used in La Mancha are:
Cornicabra and picual in DO Campo de Calatrava.
Picual, cornicabra, arbequina and manzanilla in the DO Campo de Montiel.
Cornicabra in the Montes de Toledo DO.
Castellana or verdeja in the Aceite de la Alcarria DO.
Cornicabra, manzanilla and minority varieties called verdeja, carrasqueña, picual and gordal in the DO Aceite de Madrid.