Find your olive grove or oil mill
Infographic of the area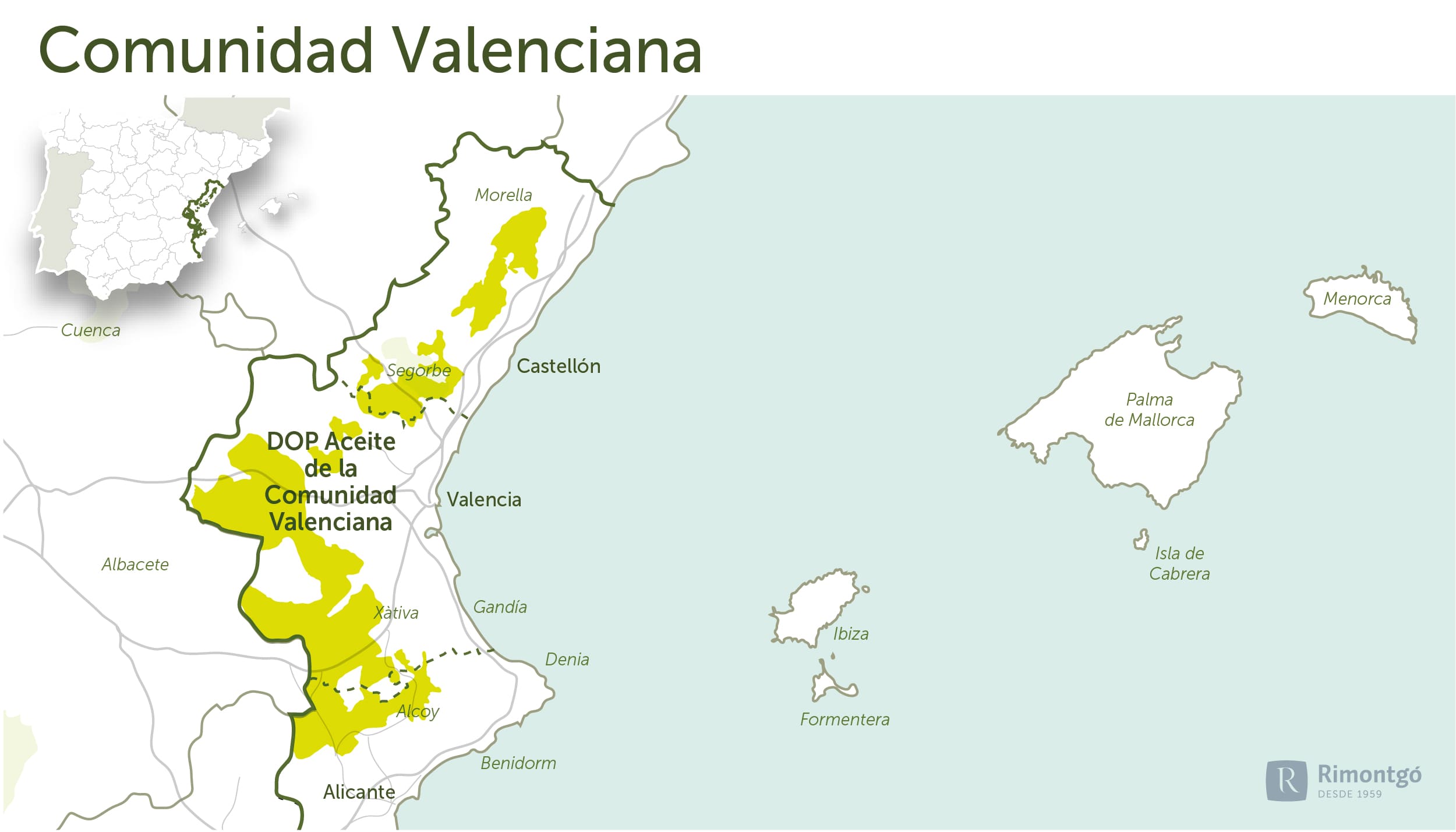 Castellón
DO ACEITE DE LA COMUNITAT VALENCIANA
In the province of Castellón, the Baix Maestrat and Alto Palancia regions stand out, with almost 70% of the total surface area of cultivated olive groves in the province, where the crop continues to be of great importance.
Varieties
Due to its Mediterranean climate, the Valencian Community has always been an important olive-growing area. There are thousand-year-old olive trees in the area of Castellón and the Community has the greatest diversity of varieties in Spain: manzanilla, Villalonga, blanqueta, farga, serrana de Espadán, morruda, cornicabra, alfafara or grosal, changlot real, royal, canetera, nana, arbequina, empeltre, cuquillo, sollana, sallosina, llumeta, millarenca and borriolenca. Seventy-four different varieties have been identified in the Comunitat Valenciana, which provides a wealth of nuances and aromas.
Of the 23 main varieties grown in Spain, 6 are Valencian ('Villalonga', 'Blanqueta', 'Farga', 'Serrana de Espadán', 'Changlot Real' and 'Alfafara').
Farga
A variety of olive tree native to the north of the province of Castellón, its cultivation extends over a large part of this province and especially in the Baix Maestrat, and to the south of Tarragona, where it represents more than 70% of the total surface area.
The Farga variety is a vigorous tree, of large dimensions and great longevity, with centenary and millenary trees.
It is a high-yielding variety, but irregular, and is considered to be very neighbourly. It is a rustic variety, slow to start production and sensitive to frost. The fruit has a high retention force, which, together with the large size of the trees, makes both manual and mechanical harvesting difficult.
Low fat content variety and therefore low yield. With regard to its composition, it has a medium oleic acid content of around 72% and a linoleic acid content of around 11%, which, together with a medium polyphenol content, results in medium stability. It is an early variety, whose optimum harvesting time can be mid-October. Earlier harvesting in early October makes it possible to obtain oils with higher fruitiness and excellent organoleptic characteristics, but with a very low yield.
The extra virgin olive oil of the Farga variety is a fruity and sweet oil, very little spicy and not at all bitter. It is an oil with a complex aromatic profile with aromatic notes of banana, almonds, green grass and aromatic herbs.
Serrana de Espadán variety
This variety originates from the south of the province of Castellón, from a mountain range from which it takes its name in the Alto Palancia region, in the foothills of which a large part of its cultivation is located. It is distributed in the area of origin and in the north of Valencia, and to a lesser extent in the rest of the province of Castellón. It is also grown in the province of Tarragona.
It is a medium production variety, neighbouring, rustic, with a good resistance to drought and frost. The fruit ripens in the middle of the season and must be harvested early to improve the organoleptic quality of the oil. It is resistant to detachment, which makes mechanised harvesting difficult.
This variety is characterised by a low oleic acid content and a high linoleic acid content, which makes it an oil with low oxidative stability. The optimum time for harvesting is mid-October. Earlier harvesting to the first days of October makes it possible to obtain oils with higher fruitiness and excellent sensory characteristics, increasing their intensity and complexity, but with a significantly lower yield.
Extra virgin olive oil from the Serrana de Espadán variety is an oil with good fruitiness if harvested early, not very spicy, slightly sweet, with a complex aromatic profile with green leaf, banana, almond, various fruits and, when green, hints of fig and tomato.
Arbequina
The Arbequina variety is one of the best known Spanish varieties. Originally from the town of Arbeca in Lleida, it is distributed throughout this province and Tarragona, and in the Aragonese provinces of Zaragoza and Huesca. It is also widely distributed throughout the Valencian Community.
The productivity of this variety is constant and high. It is resistant to cold and tolerant to salinity. Its small size and early entry into production make it particularly suitable for new super-intensive plantations and mechanised cultivation, which is why it has become widespread in the rest of the production areas.
Rustic variety, well adapted to poor and dry soils, resistant to cold. It produces fruity oils with a certain aroma of fresh apple, accompanied by a certain smoothness and sweetness that distinguishes them, leaving a final aftertaste of green almond and with light and even imperceptible bitter and spicy notes. They are very fresh, fluid oils, with a lower oleic acid content and more linoleic acid than other varieties.
The polyphenol content is relatively low, so they are more susceptible to oxidation, presenting low stability, so it is necessary to take extreme care in storage conditions to ensure their protection over time.
These oils are internationally appreciated for their sensory characteristics.
Production tends to fluctuate greatly due to weather conditions. Virgin oils of the Arbequina variety vary greatly from one area to another and within the same area in successive years.
It is an early harvesting variety, the optimum time for harvesting being the second half of October.
History
The presence of the olive grove in the Valencian Community dates back to Roman times, more than two thousand years ago. There is evidence of its cultivation in the Maestrazgo region of Castellón, in areas adjacent to the Via Augusta, which linked the capital of the Roman Empire with Cadiz. You can contemplate thousand-year-old olive trees and follow a thousand-year-old olive oil route, an initiative of local cooperatives.
Olive oil mills
Almazahara: Company made up of 7 cooperatives from all the Valencian provinces: Cooperativa Agrícola Católica Coop.V. (Cocentaina), Cooperativa San Cristóbal (Cañada), Coop. V. San Pedro Apóstol (Moixent), Bodega Nuestra Señora De Las Virtudes Coop.V. (Villena), Coopvall (Quatretonda), Coop. San Isidro Sierra (Les Coves de Vinromà, Cooperativa Agrícola De Villar (Villar del Arzobispo), Cooperativa Vinícola "La Viña" (La Font de la Figuera, SOCAPMA (Muro de Alcoy), Coop Beniatjar Oli Del Benicadell Coop V. (Beniatjar), Campoenguera Coop. V. (Enguera), Coop. La Divina Pastora (Jérica).
Belluga First (variety "Serrana de Espadan", in Sierra Calderona Natural Park), Olis Cuquello (la Jana, Maestrat), Bardomus, 10 Live oil (Alcora), Finca Varona la Vella (Maestrat), Aceite Ayr Alto Palancia, serrana variety in Parque Natural de la Sierra de Espadán), Leocadia Arbequina (Mas Noguera estate, arbequina variety), El Mil del Poaig (thousand-year-old olive trees Maestrat), Lo Canetà, Essentia Oleum and Coop. de Viver (Alto Palancia, Serrana variety).
Aceites Peset is the only company in the world dedicated to the recovery of abandoned thousand-year-old olive trees, with a total of 150 catalogued specimens, from which it extracts its oil from the Farga variety and distributes it all over the world. For this reason it has received several awards at European and national level.