Find your olive grove or oil mill
Infographic of the area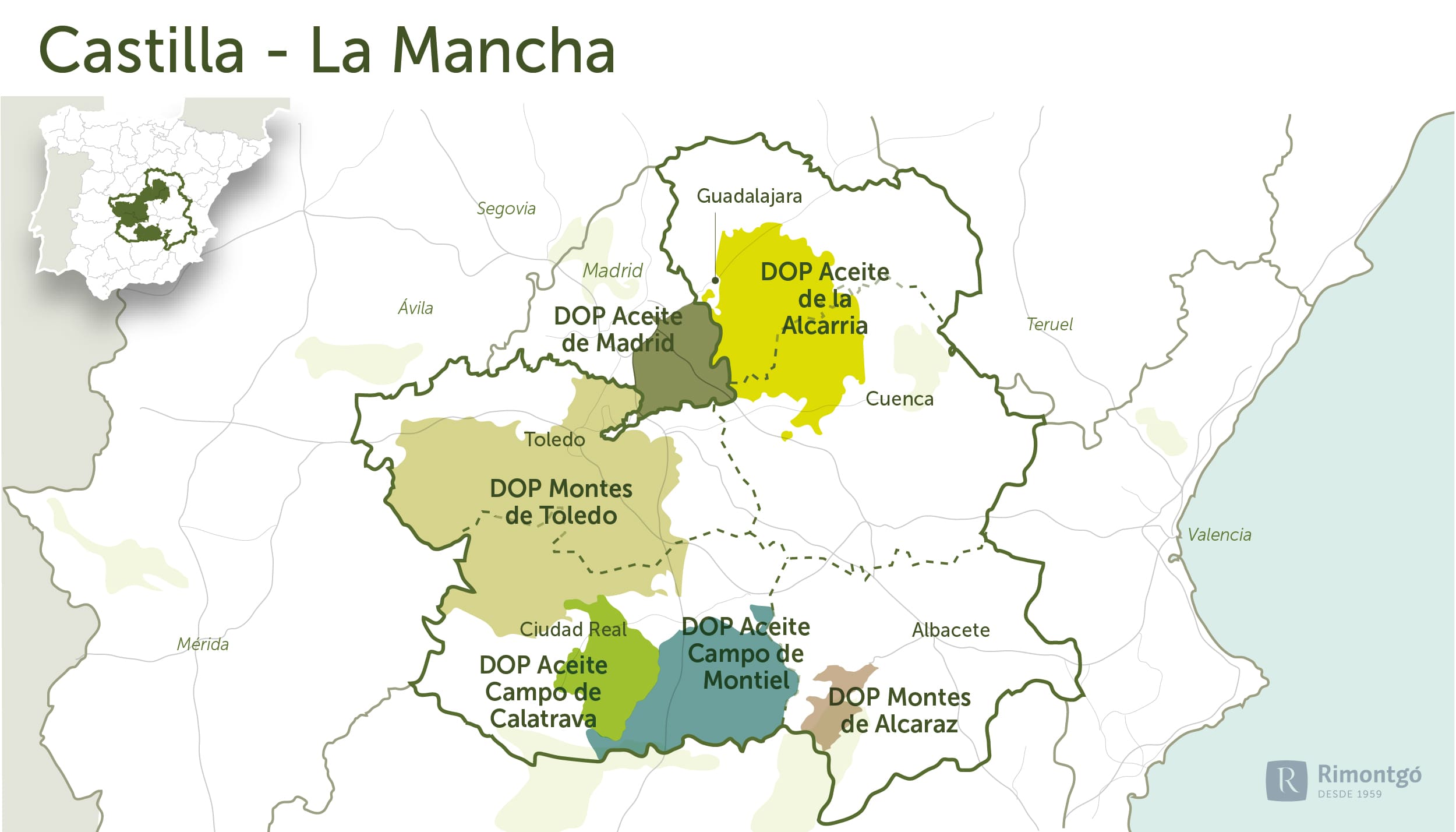 Guadalajara
In Guadalajara, the DO Aceite de la Alcarria stands out as the only DO for olive trees.
DO ACEITE DE LA ALCARRIA
Made up of 137 municipalities in the natural region of La Alcarria belonging to the provinces of Cuenca and Guadalajara.
Varieties
The oil is made with the local variety known as castellana and comes from centenary olive trees.
The variety of olive tree cultivated in the region: the castellano or verdejo is endemic to La Alcarria, 95% of the national production of this variety is produced in La Alcarria, which ensures a final product with its own properties and differentiated from the rest of the olive varieties.
History
The first historical references to the existence of olive production in the region of La Alcarria date back to the 14th century.
Climate and soil
The soil and climatic conditions of the area have done much of the natural selection work to ensure that this region of La Alcarria is the only one in which the Castilian variety, also known as 'verdeja', is present.
The altitude of the municipalities of Alcarria is between 700 and 900 metres. The physiographic features will characterise the climate and, by synergy, the soil, the vegetation and even the fauna. The average altitude of La Alcarria determines the existence of different ecosystems and, above all, the internal relationships established between them.
The geology of La Alcarria is defined by Tertiary materials, especially from the Miocene and Oligocene. This is a time of great movements on the earth's surface, and it is at this time that some areas were modelled, as is the case of the Altomira mountain range, a natural barrier that divides La Alcarria Conquense and Guadalajara.
La Alcarria is located at the head of the Tajo river basin, although some villages in the south of the region are located at the head of the Guadiana river basin.
The defining characteristic of the soils is the very high concentration of CaCO3 (calcium carbonate), apart from the low presence of organic matter, the fairly steep slopes and, therefore, the lack of soil stability, as well as the medium grain size, which can be considered to be silty-clayey.
The climate of La Alcarria is continental Mediterranean, typical of the inland areas of the Iberian Peninsula. Summers are very hot, exceeding 35ºC, and winters are very cold and not very rainy. The annual temperature is around 13ºC. Rainfall is distributed throughout spring and autumn. The frost period lasts from November to May, being stronger and more continuous between November and February.
Climatologically, the olive trees of La Alcarria tolerate frosts of up to - 5ºC, without generating an excessive increase in the peroxide index.
Olive oil mills
Aceites Fidelco SL, Aceites Tinajas, Basilia Sánchez López, Cooperativa Alta Alcarria, Cooperativa San Sebastián, S.A.T. Alcarria Baja.
D.O./Valle (wine regions)