Find your olive grove or oil mill
5 Olive groves and oil mills for sale in Cornicabra
Cornicabra
A variety originating from Mora de Toledo, its name comes from the characteristic horn shape of its fruit, which is why it is also known as Cornezuelo. In the Comunitat Valenciana it is cultivated in the Valencian regions of the Plana de Requena-Utiel and the Ayora Valley, declining in importance in the Alt Vinalopó (Alicante), and can be classified as one of the main varieties.
The Cornicabra is a variety that is slow to come into production. It is productive, but neighbouring, very rustic and well adapted to poor soils and highly resistant to frost. It ripens late and its fruit is very resistant to detachment, which makes it difficult to harvest mechanised.
It is a variety with a good fat content and yield in the oil mill, characterised by its high oleic acid content, which can exceed 80%, as well as a good polyphenol content, which gives it a high stability against oxidation.
The optimum time for harvesting is from mid-December onwards, although this may vary depending on the climatic characteristics of the season and the state of maturity of the fruit.
It is a variety originating from Mora de Toledo. Its cultivation area is mainly spread throughout the Tagus valley (Madrid, Toledo, Cáceres) and also extensive areas between Badajoz and Ciudad Real. It is the second Spanish variety in terms of cultivated area, with some 270,000 ha in the centre of the peninsula. Adaptable, due to its cultivation in different locations, it receives numerous meanings, all of them in reference to its peculiar fruit with a curved shape like a horn, reminiscent of a goat's horn: Cornal (Torrijos), Cornita (Requena), Corval (Arenas de San Pedro), Longar (Belmonte), Cabrilla (Villarejo), Longuera (Jaraiz de la Vera), Osnal (Talavera and Torrijos), Cornezuelo (Almodóvar del Campo, Calzada de Calatrava, Cañaveral and Herrera del Duque), Corriente, de Aceite (Cebreros), Común (Mora de Toledo), del Terreno (Madrilejos) and del Piquillo (Quintanar de la Orden), Cornatillo, Cornetillo, Cornicabra Basta, Cornicabra Negra, Corniche, Corniche Menudo, Cuernecillo, Ornal.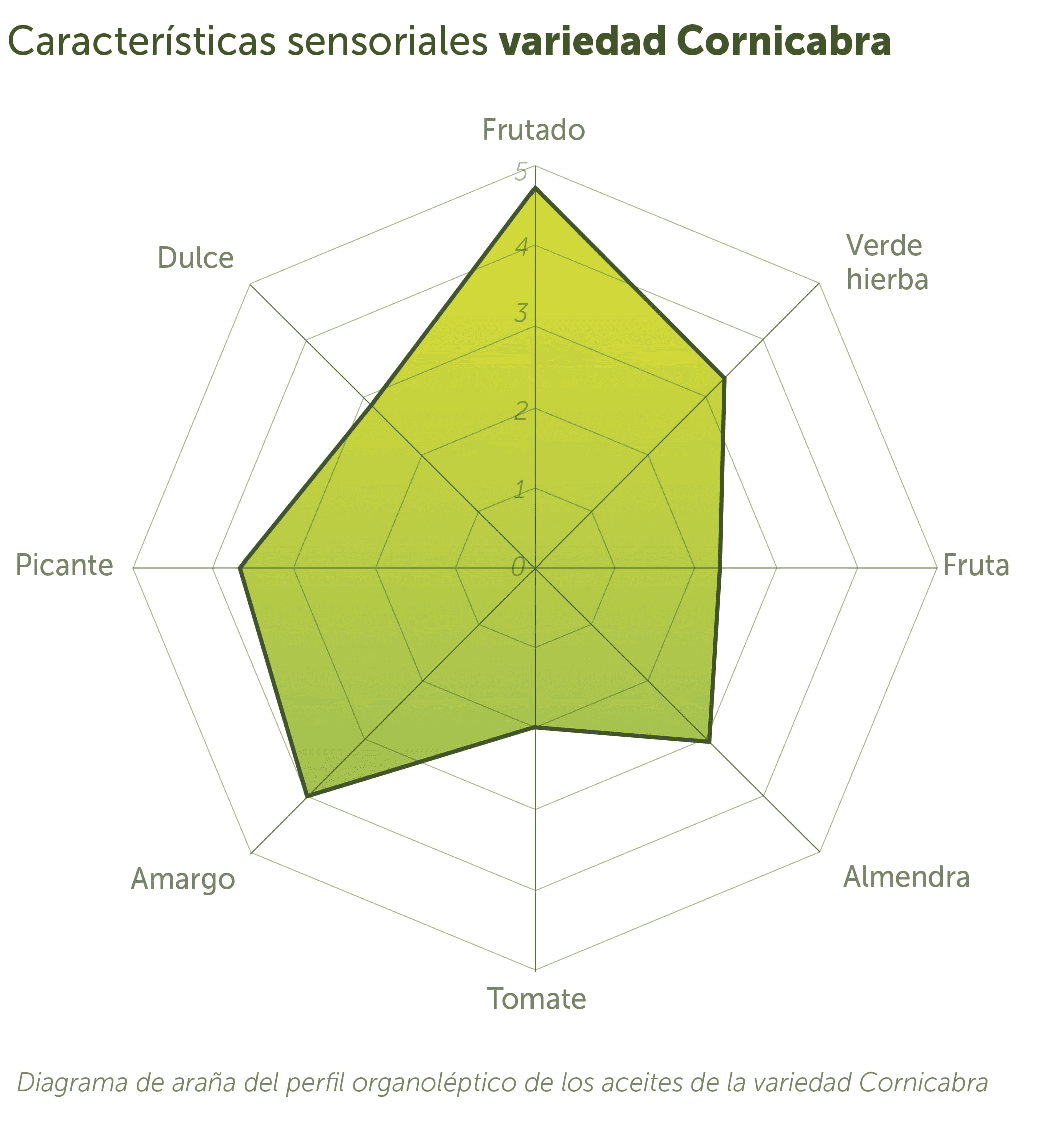 Extra virgin olive oil
The extra virgin olive oil of the Cornicabra variety is a bitter and spicy oil, with astringent and green fruity hints, with a predominance of almond.