Find your olive grove or oil mill
More than 10 Olive groves and oil mills for sale in Andalusia
Map of the Region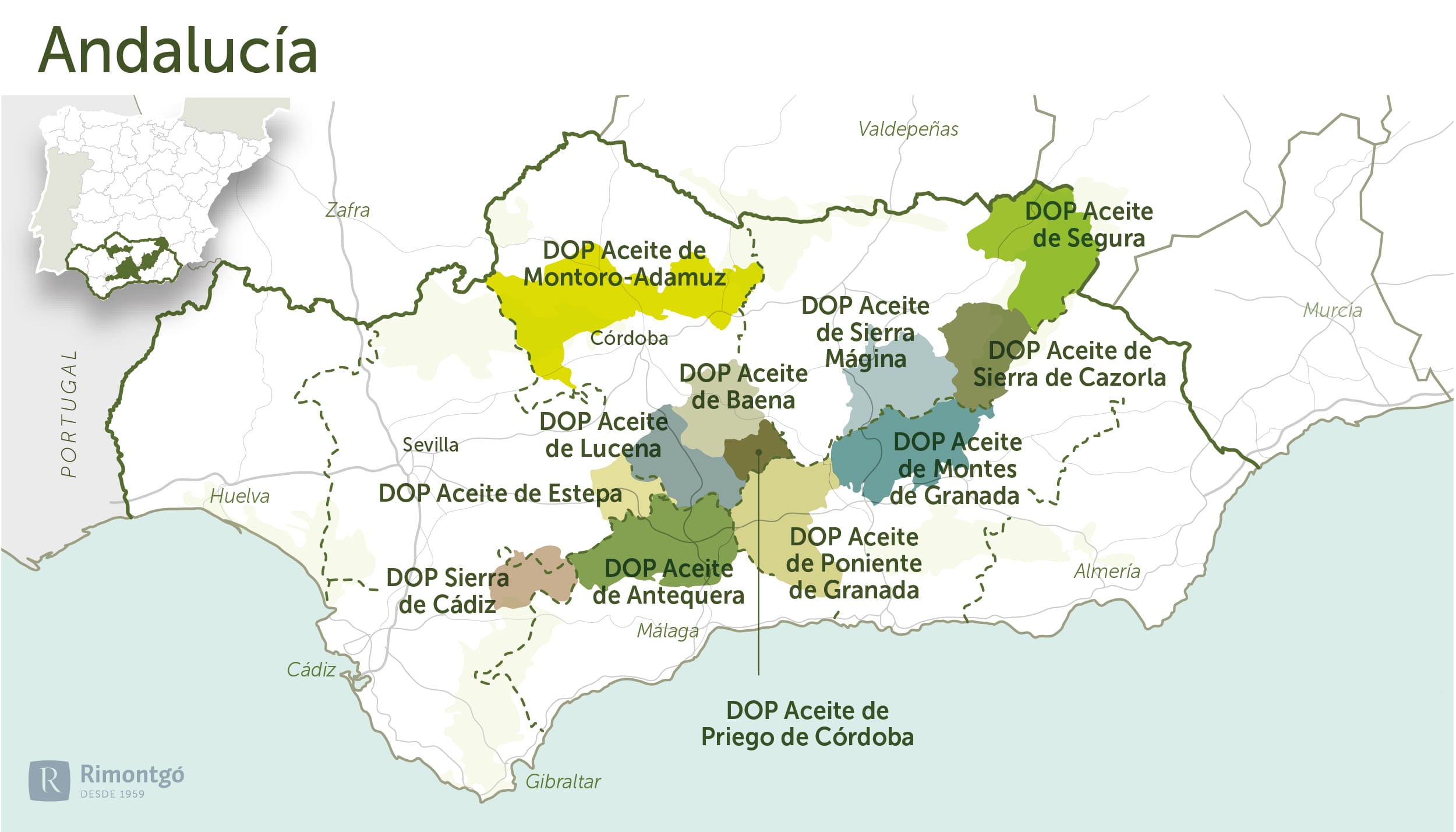 Andalusia
Historically, the province of Seville occupied first place in terms of surface area dedicated to olive groves until the beginning of the 20th century, when it was overtaken by Cordoba, while Jaén ended up occupying this privileged position from the 1930s onwards.
Andalusia contributes more than a quarter of the world's olive oil production and the importance of the sector in Andalusia's agriculture and economy shows that the olive tree accounts for between 20% and 25% of its Final Agricultural Production. It produces 1 million tonnes of olive oil.
The Autonomous Community of Andalusia produces, as we have pointed out, 85% of the Spanish oil, which is equivalent to 32% of the world's oil, and its olive trees occupy 30% of the regional surface, which represents almost 60% of the Spanish state surface.
In terms of sales of extra virgin olive oil with Designation of Origin. The DO with the highest economic volume is Baena with 21.4%. Very close to Baena is Siurana (Catalonia) with 30M in value and in third place Priego de Córdoba with 16.53M.
Jaen with 40% of the surface area and Cordoba with another 24% are the two main oil-producing provinces in Andalusia. Between the provinces of Jaen and Cordoba 64% of all the annual olive oil produced in Spain is produced.
The Andalusian olive grove has an enormous diversity of production forms and cultivation techniques, ranging from intensive olive groves in traditionally non-olive-growing areas to low-productivity mountain olive groves, with a wide range of intermediate situations in terms of production and management systems.
There are a total of 14 oil designations of origin in the Castilla la Mancha region, DO Priego de Córdoba, DO Baena, DO Montoro-Adamuz and DO Lucena in the province of Córdoba. In the province of Jaen they are DO Sierra de Segura, DO Sierra de Cazorla, DO Sierra Mágina, DO Sierra Sur and DO Campiñas de Jaen. In the province of Granada there are two designations of origin, DO Montes de Granada and DO Poniente de Granada. In the province of Seville there is DO Estepa, in the province of Malaga DO Antequera and in the province of Cadiz DO Sierra de Cadiz.
The olive varieties used to produce olive oil in Andalusia are:
Picual (90%), Verdial, Royal and Manzanillo de Jaén in the DO Sierra de Segura.
Picual is the predominant variety, followed by Manzanillo de Jaén in the Sierra Mágina DO.
Royal as a monovarietal crop in the DO Sierra de Cazorla.
Picual with more than 90% of the cultivated surface in the DO Campiñas de Jaén.
Picual represents 79% of the production and as secondary varieties are Picudo, Carrasqueño de Alcaudete, Hojiblanca and Lechín in the DO Sierra Sur.
Picual or Marteña, Hojiblanca, Loaime and Lucio are the main varieties and the secondary varieties are Negrillo de Iznalloz (autochthonous), Escarabajuelo (autochthonous), Gordal de Granada in the Montes de Granada DO.
Picudo, Picual and Hojiblanca as well as Lucio or illoreño, Nevadillo de Alhama de Granada, Loaime, Chorreo de Montefrío, Gordal de Granada, Manzanilla de Montefrío, Guitoso, Verdal, Azul and Alameño in the Poniente de Granada DO.
Lechín de Sevilla is the most typical variety in the area, but there are also Manzanilla, Verdial de Huévar, Verdial de Cádiz, Picual, Alameña de Montilla, Arbequina and Hojiblanca in DO Sierra de Cádiz.
Hojiblanca, Arbequina, Selección and Estepa Virgen in DO Estepa.
Hojiblanca is the main variety, but there are also Picual or Marteña, Arbequina, Lechín de Sevilla or Zorzaleño, Gordal de Archidona or Romerilla, Picudo, Verdial de Vélez-Málaga and Verdial de Huévar in DO Antequera.
Picual, Nevadillo Negro, Lechín de Sevilla, Picudo and Carrasqueño de la Sierra in DO Montoro-Adamuz.
Hojiblanca in DO Lucena.
Caraqueña, Lechín, Hojiblanca, Picual in DO Priego de Córdoba.
Picuda (60%), Lechín, Chorrúo, Jardeño, Pajarero, Hojiblanca and Picual in DO Baena.