Find your olive grove or oil mill
1 Olive groves and oil mills for sale in Empeltre
Empeltre
It is considered to have originated in the town of Pedrola in Zaragoza, although it is cultivated all along the Ebro valley from the northernmost areas to its mouth, reaching as far as the Balearic Islands where it dominates the landscape. It is the main variety in Aragon.
It is the dominant variety in the communities of Aragon and the Balearic Islands. As the rooting capacity of this variety is low, grafting is used for its propagation. Late entry into production. Its flowering period is early. Constant and high productivity. Early fruit ripening time, with low resistance to detachment, which facilitates mechanised harvesting. It is appreciated for its high fat content and excellent quality of the oil, which is smooth, light yellow, sweet and aromatic. It is also used as a table olive with black dressing. It is a rustic variety, which adapts well to soils of poor agronomic quality and is considered to be drought tolerant.
Currently, the Empeltre olive tree has a cultivation area of around 80,000 hectares.
Its name derives from the Catalan word empelt, which refers to grafts. It gives rise to sweet oils, with a light bitterness and spiciness and a high fruitiness, in which the flavour of green apple and almond can be clearly appreciated.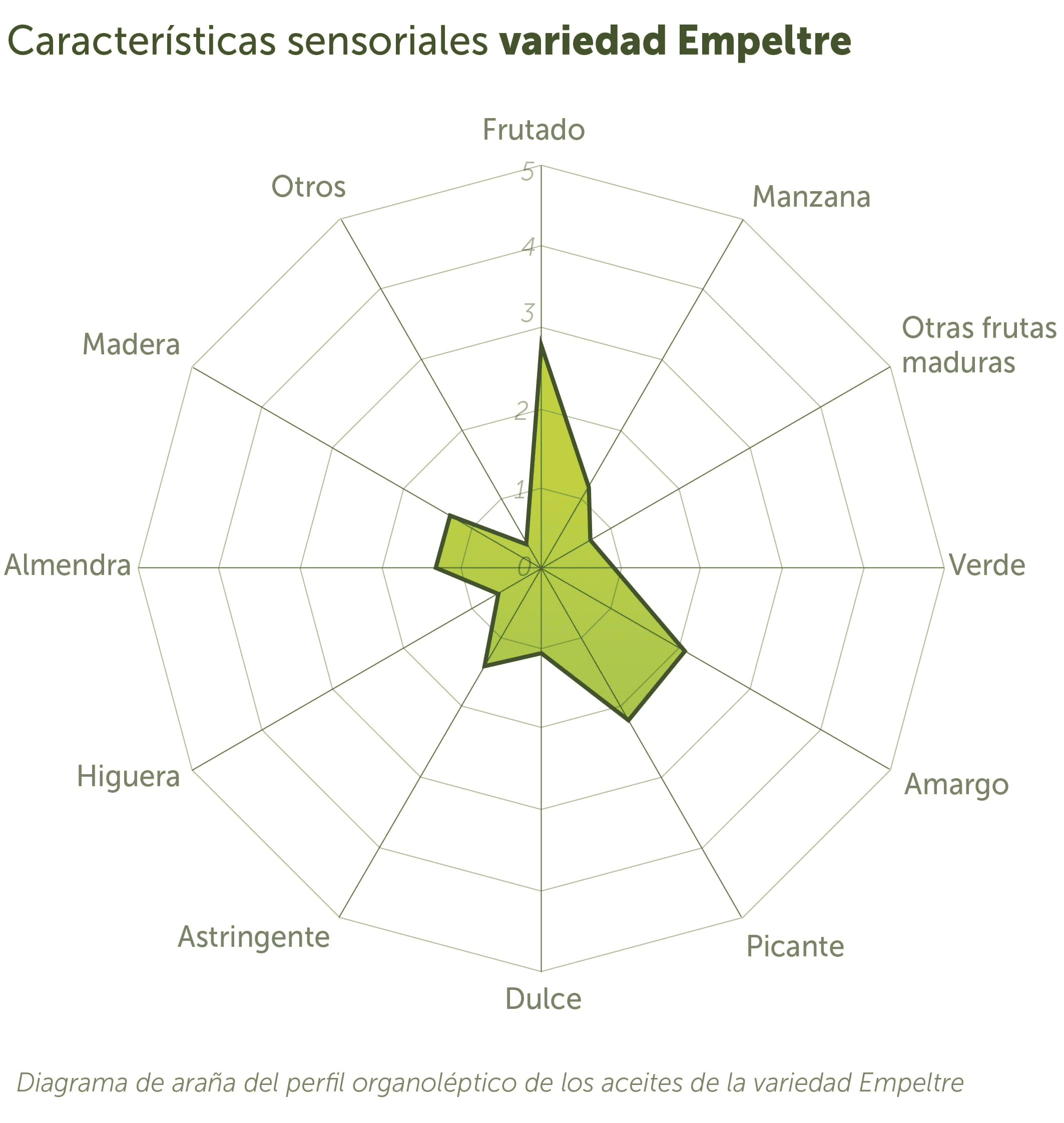 Extra virgin olive oil
Golden yellow colour, balanced bitter and spicy, slightly sweet. Expected fruity notes of almond, even apple. Medium stability and polyphenol content, as well as oleic acid, higher in palmitic and linoleic acid.